The remarkable feat by Liverpool's Mohamed Salah leaves no doubt about his star status in the Premier League.
Liverpool's Mohamed Salah broke yet another record in the Premier League after he inspired the Reds to a 3-1 win against West Ham United on Sunday.
Salah opened the scoring at Anfield from the spot after just 16 minutes following a foul by United's Aguerd on the legendary Egyptian forward.
He dusted himself to convert calmly and put Liverpool in front with a record-breaking spot kick.
Salah's Premier League record
The Hammers came to Anfield with confidence and started the brightest before Salah's goal calmed them down.
However,  Jarrod Bowen fired an equaliser for David Moyes' men to put them level at the break. But two more goals in the second half, from Darwin Nunez and Diogo Jota, ensured all the points remained at Anfield.
Salah's opener proved to be a historic goal as the 31-year-old became the first player to score or assist in 12 consecutive Premier League matches.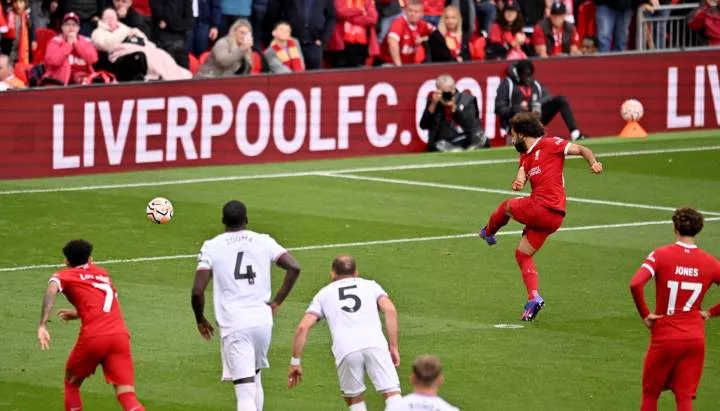 The former Roma man achieved the first feat between August and December 2021, per Daily Star, with his latest making him the first player in history to achieve the feat twice.
This is the latest record for Salah, who is also the highest-scoring African in the league's history, with a total of 141 goals now, and also one of three Africans to have scored in seven consecutive matches.
Salah's historic strike proved decisive as Liverpool extended their winning streak to five matches in the Premier League this season.